We have been really enjoying teaching English classes this past year. 2 of our favorite classes are our Chistose beginner and intermediate classes. Once a week, we drive an hour to a neighboring town to teach 2 classes of women. Since they are all friends, we have begun combining classes once a month for a special lesson on American culture and fellowship time.
For March, we taught a special lesson on St. Patrick's Day. We were surprised that the women also planned on sharing a special March holiday (Girls' Day) with us as well during fellowship time. We were even more surprised when our Girls' Day celebration, turned into not one, but 2 surprise parties!
Sharing St. Patty's Day with these 4 Japanese women, was a treat. Stephen brought pictures of things like leprechauns, pot's of gold, green beer, shamrocks, and Lucky Charms cereal. We also were able to talk about the origins of St. Patrick's Day and St. Patrick himself.
My favorite part was teaching them some common St. Patrick's day expressions like "Kiss me, I'm Irish," and "Top o' the Mornin' to ya."
Our students reading a list of St. Patty's Day phrases
After our lesson on St. Patrick's Day, we moved onto tea time/ fellowship time. The women quickly got to work setting out hinamatsuri decorations and foods.
For those of you like us, who didn't know about Hinamatsuri, it is the girls' festival. Every year on 3/3, families celebrate their daughters. They set out hina ningyo (dolls), eat chirashizushi, and drink white sake [with or without alcohol (ours was without ;) )] Our students brought the supplies to have a small hinamatsuri celebration, complete with food, (alcohol free) sake, and a small version of the hina ningyo that families display for their daughters. We were also treated to special onigiri (rice balls) made by an English student.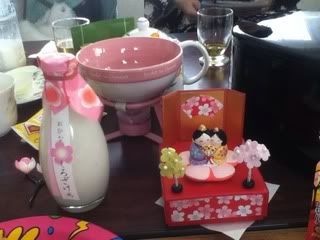 ShiroZake (white sake) and a very small version of traditional Japanese hina ningyo
delicious chirashizushi. Mmmm, oishii!
Enjoying a special redbean and chetsnut onigiri, hand made by an English student
Towards the end of our Hinamatsuri fellowship time, we got to celebrate all over again. The first surprise was for our English student, S. In honor of her birthday, the other ladies brought a cake and had us lead everyone in the "Happy Birthday" song.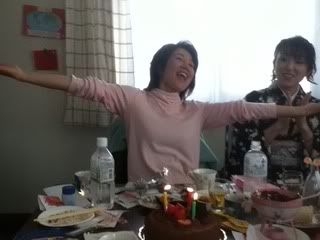 S is by far our most gregarious student! Could you tell?
After sharing in S's surprise, Stephen and I were treated to a surprise of our own. Our English ladies had planned a baby shower for us!
We were touched by their thoughtfulness!
and I learned that rubber duckies are universally awesome!
I'm excited we've started this new monthly combined class. I don't expect every month to be such an extravaganza, but I am looking forward to spending more time with these fun ladies as a whole group.