What a year it has been! We have been blessed beyond measure, and are anxiously anticipating all that is in store for us in the future. Thank you for sharing in our lives and ministry!
Through reflecting this week, I realized I've never posted any of the pictures we took from our trip and first few days last year. (that can easily happen with no internet and lots of jet lag)
What better time than now. Better late than never, right? Here are a few pictures from traveling, arriving, and our first full day in Japan.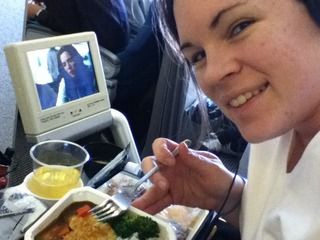 Enjoying a meal on a VERY long flight.
First shot of Hokkaido, our new home.
since we arrived late on the 30th,we crashed at the airport hotel before our first full day of paperwork and getting the lay of the land.
Taking a break from paperwork at the ward office to get some coffee. Our first Japanese vending machine.
Our first in-person-glimpse of our church.
Now on to the contest winners.
Congratulations to Dan and Denise!
Dan correctly answered the 3 questions in record time.
Q #1: What is the name of the traditional, yet disgusting, Japanese food Stephen had the misfortune of trying his first day in Japan?
A #1:
Natto
Q #2: Learning Japanese is hard. Learning English words in Japanese is even harder. Kathryn spent a week or two guessing at the meaning of an English word pronounced in Japanese. What was the word in English, and how was it pronounced in Japanese?
A #2:
Volunteer & Borantia
Q #3: After making Mexican Rice-Bowls for church, what did the church members do with the extra black beans?

Denise's comment was chosen at random. Both can be expecting a surprise in the mail in the next week or two.
We look forward to sharing more with you in the coming year!