Don't forget about our on going contest in celebration of Japanniversary week! Click
here
for details.
----------------------------------------------
Saturdays around our apartment are a break from English classes, but not a break from ministry. We set this day aside for various fellowship and hospitality ministries. We've posted about different Second Saturday Friends parties
here
, and
here
, & about Let's make something parties
here
. Saturdays are one of our favorite times to hang out with Christians and non-Christians, share some food, and build relationships.
Last Saturday was especially fun because we had TWO events in one day.
In the morning 3 college aged students came over to make cinnamon rolls. We had a great time making the dough from scratch, filling it with cinnamon goodness, and of course eating our treats at the end.
It was lots of fun teaching the girls how to knead bread. While we were kneading, they asked if women in America make bread every day.
Ummm.... no, I think I maybe made bread once a year, if that. I think many people have never made a loaf in their lives.
Then one girl corrected the other, "no, they make pie."
Ummm, yes, we do, but.... still only once or twice a year.
I love getting windows into how my culture is seen through another culture's eyes.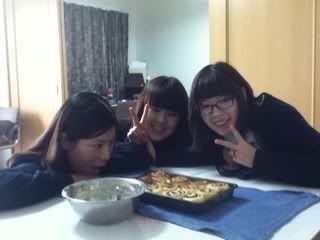 In the evening, Stephen hosted the first meeting of the ramen club he has been organizing for the past month or two. Anyone who meets Stephen in Japan soon learns he loves miso ramen. It's been the joke around church since I've been showing, that Stephen is going to have a baby too: a ramen baby named Misoko. So, for Stephen to start a monthly ramen club was the most natural thing for him to do.
We went to a new ramen shop that opened up about 50 ft from the church. The shop was new, the service was great, but the ramen was just so-so. Luckily, the fun thing about ramen club is really the time spent with friends, good ramen is just a bonus.