A few weeks ago, a friend at church asked me if I could make lunch for the congregation on May 22nd. I think she was really telling me, more than asking me, but no worries cuz it sounded like fun.
I decided to make burrito bowls (Mexican rice bowls), since it was something no one had ever tasted. And I find that is a good thing when making food for so many. It really cuts down on the criticism and ups the compliments when they have no idea what it's supposed to taste like.
Burrito bowls are easy enough. Mexican rice in a rice cooker (and we have those a plenty here in Japan), Black beans, and shredded chicken in the crockpot.
I started the meal the night before. 3 bags of black beans soaking: Check. 6 chicken breasts, 2 packs of taco seasoning in the crockpot on low: check.
all night a slept fitfully, having nightmares the crockpot turned itself off, or the beans soaked up all the water and were now dry. thankfully, all was well in the morning . Chicken cooked, and beans ready to be boiled.
Making the rice at church was another adventure in itself. Making Mexican rice in a rice cooker was a new idea for all the ladies helping me in the church kitchen. It was an experience translating the directions in to broken Japanese and checking for accuracy in broken English. We must have understood more than we think, because the rice turned out beautifully.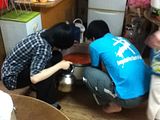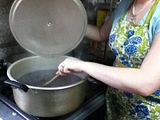 With the beans on the stove and the rice in the cooker, I sat down to hear the message and wait til 12 when I would see if my hard work paid off.
"Interesting." was the statement I heard most. Typically not the thing a chef wants to hear about their food. To my great pleasure, the "interesting"s quickly turned to "delicious"s. The greatest compliment was the fact that there were barely 2 servings of beans left over, and no servings of anything else.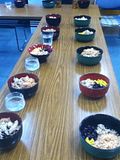 What did they do with the left over beans? They were brought to evening service for our meal there. but, not for the dinner portion. They were for dessert. They were an ice cream topping.
Let's let that sink in.
Black. Beans. On. Ice. Cream!
Have you ever had Mexican black beans over ice cream?
No?
Nor had I. Something about the garlic, chili powder, cayenne pepper, onion powder and beans doesn't exactly scream dessert topping to me.
Our pastor getting a big helping of beans for his ice cream
Our pastor got Stephen to try it by saying, "challenge." That's also how he ended up eating the silk worm pupa.
I tried and spoonful, and although they are not a vile as I would have thought, it was not my cup of tea.
Over all, it was a successful meal. And I learned some really important things about cooking for a large group. Namely always make something they've never seen before to guarantee good reviews, and never underestimate what Japanese think would be good for dessert.
So, next time you have black beans, don't forget the ice cream.
Challenge!