When Jillian was born we noticed right away there there was something different about her left foot. We were referred to an orthopedic surgeon and were given the news that Jill had a condition called clubfoot. I won't get into the nitty gritty of the condition here, but basically it means the tendons and muscles on the inside of her left foot were shorter than the outside and needed to be stretched.
Jillian's foot at 3 days old
We were shocked to find out our perfect little girl would need special treatment if she were ever to be able to walk.
But since nothing surprises God, we trusted that He was already at work.
Since meeting our daughter and seeing her clubfoot, here's how we've seen God moving:
*Clubfoot is a correctable condition if treatment is started right away. Jillian was in her first cast at 8 days old.
*We were referred to a leading clubfoot specialist in Sapporo.
*We realized we live in a big city that has a specialist. We don't have to travel to another town like we would if we lived somewhere else.
*Our doctor is an English speaker and can clearly explain procedures and progress.
*My (Kathryn's) mother is an executive in a large California hospital and has provided access to double check Japanese protocol for clubfoot against American procedures, giving us peace of mind.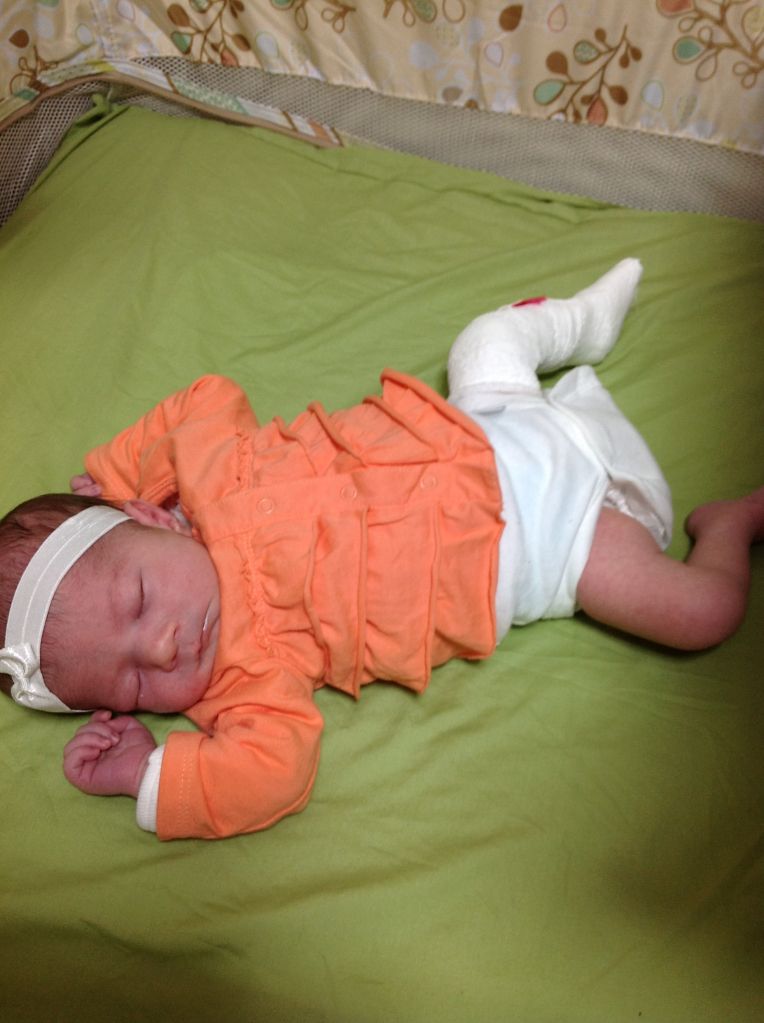 Even in a cast she's stinkin' adorable!
Since getting the official diagnosis at 6 days old, Jillian has had 5 casts to stretch her tendons and muscles, and 1 surgery to release the tension in her Achilles' tendon. Surgery was uneventful (which is the best kind of surgery in my opinion) and Jillian is coping with the recovery and a new cast by snuggling with Mommy and Daddy all day.
There is still a long way to go in her treatment. After wearing this final cast for 2-3 weeks, she will wear a special brace on her feet every day for a few months and then at night for a couple years.
Even though the situation is not ideal, we are so happy that Jillian has every chance to grow up with normal use of her feet. In the mean time, we'll continue to seek God's comfort, provision, and plan through it all.