As I look back over the events of the past day and months, I can't help be amazed at God's hand of providence.
Jill woke up earlier than usual from her first nap. After she ate, I tried to Skype my mom. Since she was in a meeting, I thought we should take a walk since the weather is finally turning nice again. I usually only take a purse with a diaper, travel wipes, and a burp cloth rather than my whole diaper bag when I take a walk to the park. Today, I decided to bring the whole bag, even though I only planned on being gone 10-15 minutes. My plan was to go to the park across the street and let her feel the grass, but when we got there I realized the ground was too wet from yesterday's rain. I changed tack and headed to the park a little further down the road where there is more sunshine to dry the ground.
As we neared the 2nd park a women and her 8 month old daughter rushed to catch up to us.
I met this mom 2 months ago at the park near my house. I was there on a whim and she and her daughter sat with us to chat for a few minutes.
She recognized me as I was walking. She even remembered my daughter's name and was excited to see Chiyo-chan (Jillian). After chatting our way down the road, past the park, I discovered she wanted to invite me to the neighborhood play group she was walking to.
I knew this play group existed, I just didn't know where it was, or when it met. I learned the Japanese name for it on Wednesday and was actually looking it up online when Jill woke from her nap this morning.
As we were walking, the mom told me about how she moved here last year and really wanted to make friends. This was going to be her first day at the kids' club and she was embarrassed to go alone. She was happy she saw me and that I wanted to come too.
At the kids' club there were dozens of other moms with there kids. Babies and toddlers filled the rooms. It was wonderful watching Jilli interact with the other babies. I sometimes worry she doesn't get enough time with other little ones since she's the only person under 13 years old at our church. Jill was gentle and sweet as she touched there other babies' faces and hands. She even showed off her giggles and rolling.
Offering your hand to be chewed on is the international sign of friendship among babies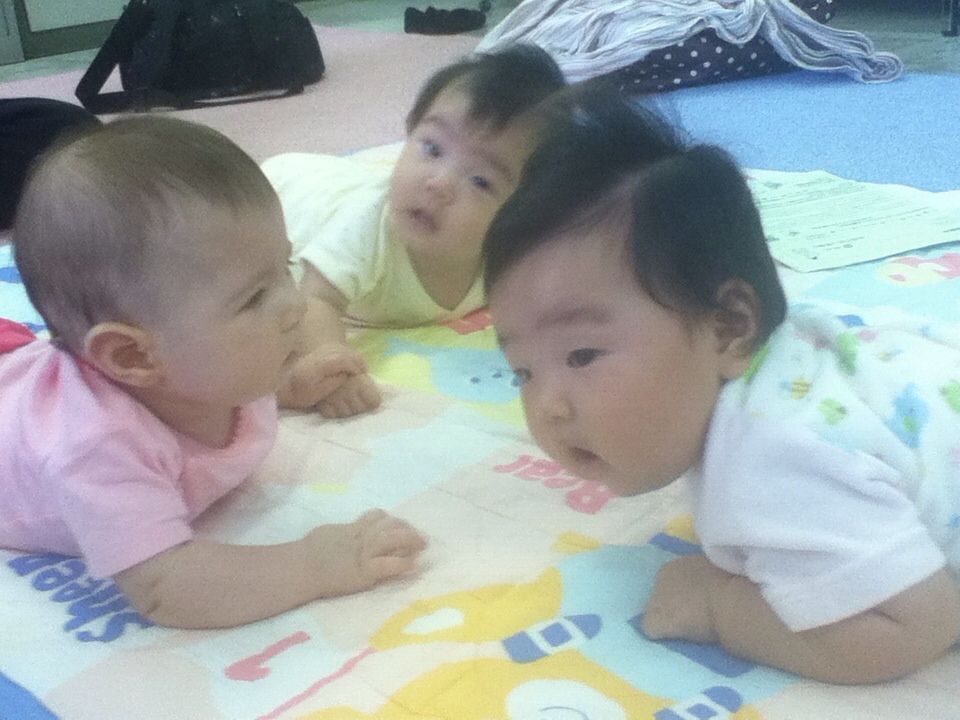 Before we left to get home for her nap, another mom came up to me to ask if I lived in the building named "LaForce." I do, and it turns out, so does she. She and her 1 year old son live two floors down and have the parking space next to ours. Go figure.
The play group meets ever Friday, a 4 minute walk from my apartment. I am so excited to go back again. I feel like a genuine connection is being made, and to think, if Jill had slept for her whole nap, or my mom was free to Skype, or the grass was dry enough to sit on, I never would have gone.