While he was saying this, a synagogue leader came and knelt before him and said, "My daughter has just died. But come and put your hand on her, and she will live." Jesus got up and went with him, and so did his disciples.
Just then a woman who had been subject to bleeding for twelve years came up behind him and touched the edge of his cloak. She said to herself, "If I only touch his cloak, I will be healed."
Jesus turned and saw her. "Take heart, daughter," he said, "your faith has healed you." And the woman was healed at that moment.
When Jesus entered the synagogue leader's house and saw the noisy crowd and people playing pipes, he said, "Go away. The girl is not dead but asleep." But they laughed at him. After the crowd had been put outside, he went in and took the girl by the hand, and she got up. News of this spread through all that region.
It figures that the week my pastor gives a message on Jesus the Great Physician is the same week my back goes out.
On Sunday, I was so glad to understand the message. Like always, it was given in Japanese, but this week I felt I understood more than usual. As I was listening, I thought
, I believe Jesus can heal, but I don't really have any personal stories to share in small group today.
I feel like God was sitting up in heaven laughing, saying, "Child, just you wait..."
Now, I'm not saying God made my back go out to prove a point. I mean, He totally could have. But, no, I am sure this was going to happen regardless. (Too much up and down with the baby can mess you up.) I just feel like the message was extra timely in my life.
Wednesday morning, I was feeling a little stiffer than usual. Bending over to pick up the baby was a bit more of a challenge than usual. By Thursday, I was in tears limping to and from the baby's room. Pulling her from the crib was a force of will. The three steps from the crib to the rocking chair to nurse her took all of my strength.
I spent the morning literally praying through every step. Most of the prayers were something like, "Please, don't let me drop the baby." I even enlisted the prayers of my Facebook friends. (Those of you who prayed, THANK YOU!)
To make matters more interesting, Jill was in the throws of a growth spurt and wanted to eat more often than usual. Which meant I was mobile a bit more than I would have preferred.
For play time, I decided to lay on the floor with Jillian. It was great
in theory
. I got to rest my back and Jill got to play with Mommy. I say "in theory" because when play time was over, I realized I was stuck. It took me 10 minutes to get up off the floor.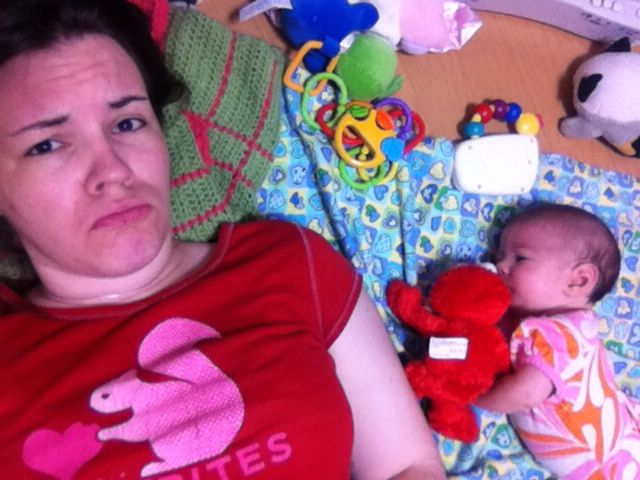 Jilli didn't mind a little extra playtime. She had Elmo to keep her busy.
Thursday was the worst of it. Thankfully, Friday and Saturday have been progressively better. I feel like God has been gracious in answering prayers. I'm still not at 100%, but each trip to the baby's room is a little bit easier.
I'm hoping to be better tomorrow to go to church and share my new story with my small group. Even if it is a week late.