Today, we had a Christmas lunch with our students in Chitose.
I racked my brain for some Christmassy thing to make. Thanksgiving is easy. The menu is pretty standard, with a few variations depending on your family. Christmas dinner, though, is different for most every American I ask.
I ended up making beef stew with biscuits. I don't think I've every personally eaten beef stew for Christmas dinner, but it felt American and homey, (and it was super easy because of my crockpot) so it fit the bill.
After class, we brought in the food.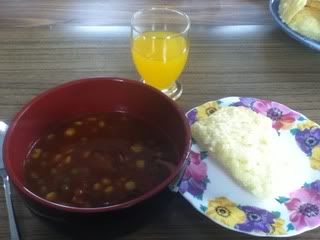 It was a meal of firsts: first time eating biscuits, first time seeing a crockpot, first time having American beef stew.
It's been so nice getting to know "our Chitose ladies" over the past few months. Sharing this meal together was a nice way to grow in relationship and spend time together before the new year.
If you're
intere
sted in making the stew or biscuits, here are the recipes I used along with a note or two.
(Credit: Taste of Home)
*When I make this next time, I'll decrease the apple juice and increase the beef broth by equal parts
Ingredients
4 cups

frozen vegetables for stew (about 24 ounces), thawed

1 can

(8 ounces) sliced water chestnuts, drained

1 jar

(4-1/2 ounces) sliced mushrooms, drained

1 tablespoon

dried minced onion

2 envelopes brown gravy mix

2 tablespoons onion soup mix

2 teaspoons

steak seasoning

1/8 teaspoon

ground cinnamon

2 pounds

beef stew meat, cut into 1-inch cubes

1 can

(14-1/2 ounces) beef broth

1-1/4 cups apple cider or unsweetened apple juice

1 can

(8 ounces) tomato sauce

1 bay leaf

3 tablespoons

cornstarch

1/3 cup

cold water
Directions
Place the vegetables, water chestnuts, mushrooms and onion in a 5-qt. slow cooker. In a large resealable plastic bag, combine the gravy mix, soup mix, steak seasoning and cinnamon; add beef, a few pieces at a time, and shake to coat. Add to slow cooker.
Combine the broth, cider and tomato sauce; pour over beef. Add bay leaf. Cover and cook on low for 6-7 hours or until meat is tender.
Combine cornstarch and water until smooth; stir into stew. Cover and cook on high for 15 minutes or until thickened. Discard bay leaf. Yield: 12 servings.
(Credit: All Recipes)
*These were a hit! I'm looking forward to making them for Christmas Eve dinner for Stephen and me.